New Bethlehem
Fire Company #1
425 Arch Street
New Bethlehem, PA. 16242
(814) 275-3000
[email protected]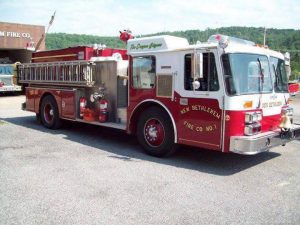 New Bethlehem Fire Company is selling a 1989 Grumman Fire Cat Truck.
FEATURES:
– 1,000 Gallon Galvanized Steel Tank
– Waterous Pump 1250GPM
– Detroit Deisel 350HP
– 1,769 Pump Hours
– 23,578 Miles
– Ladders and Hard Suction (35ft extension ladder)
– Miscellaneous equipment included
– Pump was recently redone. Truck has a few valve issues.
Asking 10K or best offer.
Call 814.275.3000 or via email [email protected].
* We are selling because we recently replaced this engine with a newer engine.