New Bethlehem
Fire Company #1
425 Arch Street
New Bethlehem, PA. 16242
(814) 275-3000
[email protected]
FIRE EQUIPMENT / APPARATUS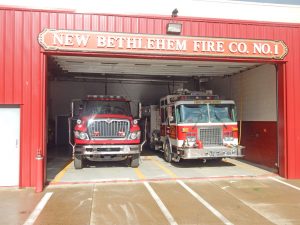 The company has owned various pieces of equipment over the years. All have been paid for by various fundraising projects which include fun drives, bingo and other community activities.
The current fleet of vehicles include:
2014 International rescue pumper
1977 Dodge Brush Truck
1996 Spartan Pumper/Rescue which contains rescue equipment including "Jaw's of Life"
2003 Ford F550 Rescue/Brush Truck
We are always in need of upgrading our equipment with the latest technology to meet compliance/safety regulations. We would appreciate your donation and support. Better equipment allows us to save lives faster and more effectively. We are a volunteer fire company.
Please visit our 'Donations' page to make an electronic donation via all major credit cards. Thank you for your support!